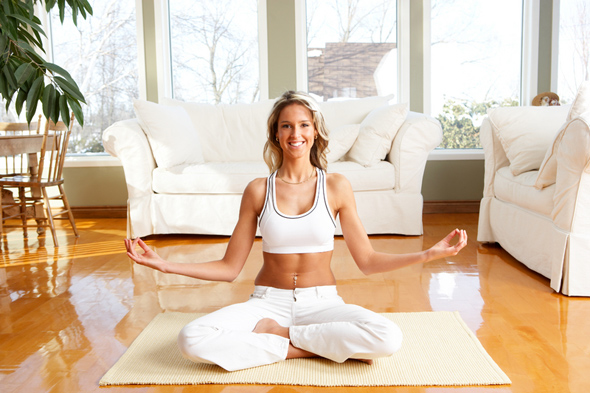 Yoga, the famous and effective form of health regime, ensures fitness and health not only to the body but also to the mind. People all around the world practice this exercise and understand the importance and benefits of it.
Yoga can help strengthen a person by working on the basic structure of body. This helps the person feel strong from the core. People that follow yoga regularly do not tire of spreading its advantages, as it can help increase flexibility, mental ability, muscle building, toning, good posture, and natural weight loss. Yoga even helps people have a better and more sound sleep.
A regular yoga practice can potentially ensure that all the organs of your body like heart, lungs, kidneys, pancreas, spinal cord, stomach, intestines, and various glands are in a good working state. It can be seen as a method of preventing common ailments and disorders like breathing problems, hyper tension, joint pains, and arthritis.  And, it can help you relax, unwind, and reduce anxiety.
Considered to be one of the most economically friendly forms of exercise, yoga does not require costly equipment, playgrounds, pools, or a gym. All you need is a silent space and a clean mat. You can perform the various poses alone or in a group, within your home, or in open spaces like a park.
Yoga is not limited to the rich or literate people, it is also available to the poor and illiterate. It is not bound to any particular religion. Any person following any religion is free to learn and practice. Moreover, age has nothing to do with practicing yoga either. You have to learn the art of performing the exercises while controlling your breath and this can be done under a skilled trainer.  Once you master the techniques, you can even do it by yourself.
Anyone can use this ancient exercise and potentially keep himself/herself free from disorders.
Check out this awesome yoga video to help inspire you:
+++++++++++++++++++++++++++++++++++++++++++++++++++++++++++++++++++++++++++++++++++++
About the author: Amanda Kidd is a blogger who takes the utmost care while choosing her stuff. Being a health conscious girl she prefers to own only home remedies for her treatment and skin care. Whenever she is on a look out for some really cool and funky outfit to wear, an eco friendly dress is always her top priority. In spite of this she believes a lot in waste recycling.